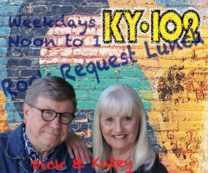 Dick Wilson & Katey Mcguckin, two KY102 Originals, invite you to join them weekdays at noon for an hour of your rock requests plus The Artist of the Day, This Day In Rock History, a KY Lost Lunch Classic, and regrettably Dick's Dumb Joke of the Day.  Record your voice on your cell, pad, or computer with your request and send it to dklunch@ky102.net and standby to be a star!
You can also make a request on the free KY app.
Dick and Katey are giving away tickets on the KY Party Bus! Win tickets to Shellabration in Fort Dodge Iowa on July 2nd with Cheap Trick and 38 Special OR tickets to the Mid America Music Festival July 16th in Trenton featuring Autograph, Slaughter, and Great White!
Email Dick and Katey at dklunch@ky102.net and tell 'em why you need a concert getaway! Make a song request while you're at it, and you could be one of our winners!